Meet our High School Youth Leader
Meet Katie Onnen.  Katie is leading our High School Youth. Katie is also a life-long Lutheran who joined the Faith Family as a teacher in the fall of 2019. She has a deep love for sharing the joy of Jesus with others.  Katie grew up in IL, CO, and Missouri and last taught for seven years near Concordia, MO. Katie has been an active member of Ongoing Ambassadors For Christ and has enjoyed working with youth and adults in ministry. She enjoys many outdoor activities; hiking, biking, tennis to name a few; and is excited to participate in Bible Study with the youth of our congregation.
If you would like to reach Katie please email at Kathrine.onnen@gmail.com
+++++++++++++Please welcome Katie+++++++++++++
High School Bible Study LIVE every Sunday at 9:30 am – Youth Room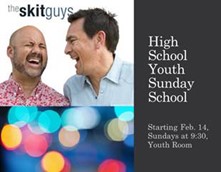 The current Sunday morning High School study is a video series featuring "The Skit Guys," who are always a lot of fun and thought provoking.  We meet in the youth room from 9:30 – 10:30 am every Sunday morning.  We hope you will join us.