8:00 AM & 9:30 am*
…at 8 am & 9:30 am we gather in worship to sing praise to our God, Father, Son, and Holy Spirit. Our classic service follows the Lutheran liturgy, which includes the reading of scripture, prayer, the speaking of a creed, call-and-response, a sermon, offering, communion, and hymns accompanied by an organ and often a choir and handbells. (*9:30 am is a Mask Required service)
11:00 AM
…at 11:00 am engage in a blended experience of traditional and modern worship. Scripture readings responsive prayers, declaration of faith, and the Lord's Supper are all part of this service.  The music style of music is modern worship – led by a worship team composed of modern instrumentalists and vocalists of various ages.
Friendliness
As you walk in the door, our greeters will welcome you, and our ushers will hand you a bulletin with all the information about that day's service.
Attire
Come dressed in whatever way makes you comfortable, be it jeans and a T-shirt, a suit and tie or a nice dress, or anything in between.
Accessibility
There are no steps at our main entrance, nor are there any leading into the sanctuary. There are some spaces at the front of our sanctuary for wheelchairs.
Nursery
Children are welcome in worship and we have a staffed nursery. Our lobby is great place to care for a little one while still listening to the service.
Communion
As the Lord's Supper is sacred, we offer it to anyone – guest or regular – who has been baptized and confesses Jesus Christ as their Lord and Savior.
Offerings
We collect tithes and offerings each service. This is for our members; as a guest, please do not feel obligated to contribute anything.
Baptism
At Faith we love baptisms. Whether you want to be baptized or you want your child to be baptized, we'd love to talk with you about baptism. We offer a great class to talk about how the Bible describes God's gift of grace through baptism. More information?
Questions?
If you have any questions before, during, or after the service, feel free to ask any of our ushers.
If you would more information please email or call the church office 770-973-8877.
Special message regarding social distancing and worshiping during the COVID-19 pandemic.
Dearest Faith Family,
We went three months without gathering together in our worship center to praise our God for who He is, to receive from God all that He gives in Word and Sacrament. So it's pretty exciting to be gradually moving back into our sanctuary to gather together for worship.  We returned back to our sanctuary in a limited manner on May 12, and these limitations may be eased in the future as we monitor the pace of the spread of the coronavirus and follow the recommendations of the Governor's Office and the CDC.
Given all that, for the time being, the following are the actions a set of circumstances.  We will only have every other pew available for seating.  You will be asked to sit at the ends of each row. (Families who live together are not required to observe social distancing among themselves.)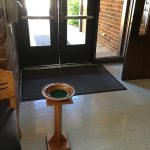 Sanitized facilities. Our facilities have been sanitized thoroughly. We will be sanitizing the worship center between services, any surfaces that may get touched including all bathrooms.   Tony, who does our maintenance, will be sanitizing our facilities between services. Thanks, Tony!
Enter Narthex doors only. Please enter the worship center through Narthex doors. Doors will be propped open to avoid the need to contact any door.
Additional sanitizers and signs have been added to the worship center, external entrances/exits (and other places in administration building).
Communion will be offered as continuous, one row at a time, social distancing observed. Individual cups and hosts will be "self-contained." Common cup will not be available at this time.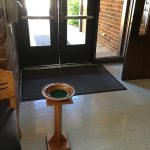 Collection plates will be placed at the end of the service next to the two narthex exit doors for your offerings as you leave or you may give online.
NO Coffee hour.
Limited Sunday School & Confirmation on campus.
We hope everyone that will be comfortable attending church with these restrictions and will be able to worship our Lord in the sanctuary.  But we know that many of you may not feel comfortable attending church yet, and that is fine, which is why we will continue offering online worship opportunities.  We will be live-streaming all services, and we will also be recording those services for people to watch at their convenience.  Lastly, we certainly want to remind everyone that if you are sick, please stay home for your own safety and the safety of others.
These are truly difficult times for all, but permit me one observation.  We are so blessed.  We thank God for His hand over our hearts, homes, community, nation, and our world.
To God be the glory and His Son Jesus our praise,
Pastor Carl