Your content goes here. Edit or remove this text inline or in the module Content settings.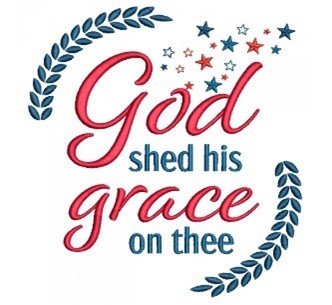 Our Lutheran Church ~Missouri Synod, has had a long-standing tradition to include – in the general weekly prayers of the church –  prayers for our nation, her leaders and citizens, which the Apostle Paul encourages in this letter to Timothy,
I urge, then, first of all, that requests, prayers, intercession and thanksgiving be made for everyone– 2  for kings and all those in authority, that we may live peaceful and quiet lives in all godliness and holiness. 3  This is good, and pleases God our Savior, 4  who wants all men to be saved and to come to a knowledge of the truth.  
1 Timothy 2:1-4 (NIV)
Inspired by what she saw traveling to Colorado Springs in 1893, Katharine Lee Bates, wrote a poem that ultimately became "America the Beautiful."  (Samuel A. Ward composed the music at Grace Episcopal Church in Newark, New Jersey. The two never met.) 
While the first verse of the song is best known, there are three "prayerful" expressions found in the refrains, that could, or should be included in daily prayers for our nation.
(Refrain verses 1 & 4)
America! America!
God shed His grace on thee
And crown thy good with brotherhood
From sea to shining sea!
Great God, our King, pour out the riches of your grace upon our nation, not because we are deserving, but because we cannot afford to live without Your grace and mercy.  For Christ's sake bless our nation so that we may proclaim the Gospel with our lips and lives and so offer You the praise, honor, and glory you deserve. In Jesus' name. Amen
America! America!
God mend thine every flaw,
Confirm thy soul in self-control,
Thy liberty in law!
Sovereign Lord, forgive NOT the sins our nation until we repent and make America a place where no sin is accepted, no crime unpunished, no injustice overlooked.  Pour out Your Spirit upon our nation's leaders and citizens that we may be emboldened to work together to promote the general welfare and secure the blessings of liberty to according to Your Divine Laws. In Jesus' name. Amen
America! America!
May God thy gold refine,
Till all success be nobleness,
And ever gain divine.
Lord of every good and gracious gift, grant Your prosperity and blessing to our nation and this land so that we may be rich in sharing Your abundance with the power, the downtrodden, the weak, the widow, the orphan.  Grant success to America so that she/we may be a blessing to the nations as we share the good news of a Savior from sin, death and everlasting condemnation.  Let our boasting NOT be in our accomplishments, but in the richness of your kindness, grace and love shown to us and boldly share through us unto others, in the name and for the sake of our Crucified and Risen Savior, Jesus, The Christ.  Amen!
Blessed is the nation whose God is the LORD, the people he chose for his inheritance.
Psalm 33:12 (NIV)
God, bless America so that America is be a blessing to the world in Jesus' name. Amen!