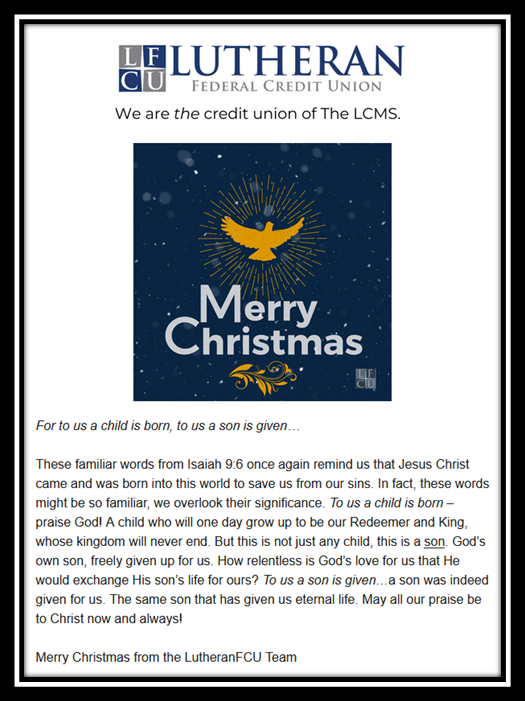 I don't endorse many things to our Faith Family, but here is my first endorsement ever. Lutheran Federal Credit Union.
I love my Lutheran Credit union. If you have thought about changing your bank or credit union, I give LCFU a TWO thumbs up. 
They are great to work with. They are a credit union, which means they have "live" local banking wherever you live. They are primarily an online institution, which means your smartphone, iPad, tablet, computer, and, oh, of course, your phone, which doesn't take ten minutes of promptings actually to talk to a real person. Check out OUR Lutheran Federal Credit Union, a bank with a mission.
As the credit union of The LCMS, LutheranFCU offers everyday banking and lending needs to the people and organizations of the LCMS community. Started and supported by the LCMS, we are proud to have a growing membership that chooses LutheranFCU as their day-to-day financial partner. Connected to more than 30,000 network ATMs and 5,000 network branches, LutheranFCU serves members in all 50 states, which means YOU! LutheranFCU.  Good for You.  Good for the Church.
By the way, I get nice notes like this all the time from my credit union. Do you?
Pastor Carl