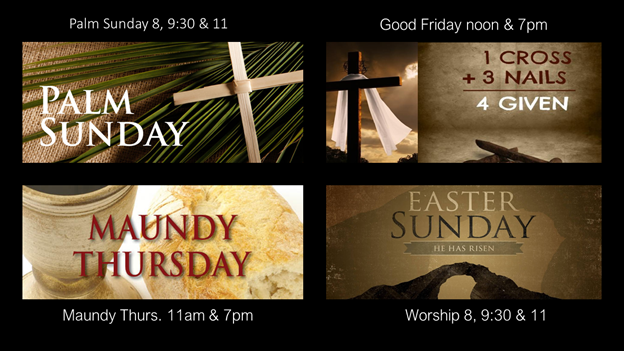 Palm Sunday, March 28th is a joyous service to recall Christ's triumphant entry into Jerusalem, signaling the beginning of Holy Week, the final days of our Suffering Savior's life for us and for our salvation.
Maundy Thursday, April 1st, 11 AM* & 7:00 PM we'll gather to hear the "words of institution" and be a part of the Last Supper of our Savior, Jesus Christ, and then, gather together for "The Table Set for you". 
Good Friday, April 2nd, Noon* & 7 pm – Christ's final words, prayers, songs and brief messages as we gather beneath the cross to witness the innocent, bitter sufferings, and death of our Lord, Jesus, The Christ to prepare our hearts to return on Easter Sunday anxiously waiting to hear the good news of the resurrection.
Easter Sunday, April 4th Celebration Worship at 8, 9:30* traditional service and 11:00 modern worship to celebrate the resurrection of Jesus Christ from the dead. Christ is Risen. Alleluia.  He is Risen.  Indeed!
Remember to extend invitations to family, friend and neighbors. 
All services will be live and live streamed. 
*mask required